Beef Jerky Packaging Solutions by Brand My Bags
Any time you enter a gas station, local supermarket, or other types of convenience store, one of the first things that catches your eye, especially on an empty stomach, is the large selection of beef jerky. From teriyaki and peppered to spicy and garlic, the flavors are endless, and you can always count on the freshness you'll taste and the aromas you'll smell the moment you open the bag.
Mylar bags have become a popular choice among beef jerky processors due to their exceptional ability to protect and preserve the quality of the product. At Brand My Bags, we take things a step further—offering customized mylar packaging designed to maintain that fresh taste consumers know and love and identify your brand immediately. Coming in a variety of sizes and styles, our mylar package options are the ideal solution for any type of beef jerky product. Become the beef jerky brand that dominates the shelves when you rebrand and repackage your product with mylar bags from Brand My Bags.
From Production to Snacking Pleasure: Mylar Packs a Punch for Beef Jerky
Taking that first bite of jerky is a momentous moment, and as a beef jerky processor, providing satisfying joy through this popular grab-and-go snack is the ultimate goal. Our stand-up pouches and lay-flat pouches come in a compact design to save valuable storage space and are crafted from a durable polyester film that acts as a barrier against moisture and oxygen. As if that weren't enough, transparent packaging allows customers to see the quality and appearance of the jerky inside, enticing them to make a purchase.
By utilizing mylar bags, beef jerky processors can ensure that their products maintain their quality, flavor, and shelf life, meeting the expectations of customers and building a reputable brand in the industry. Discover the endless possibilities for your jerky with our abundance of mylar product options.
The Benefits of Packaging Beef Jerky in Mylar Bags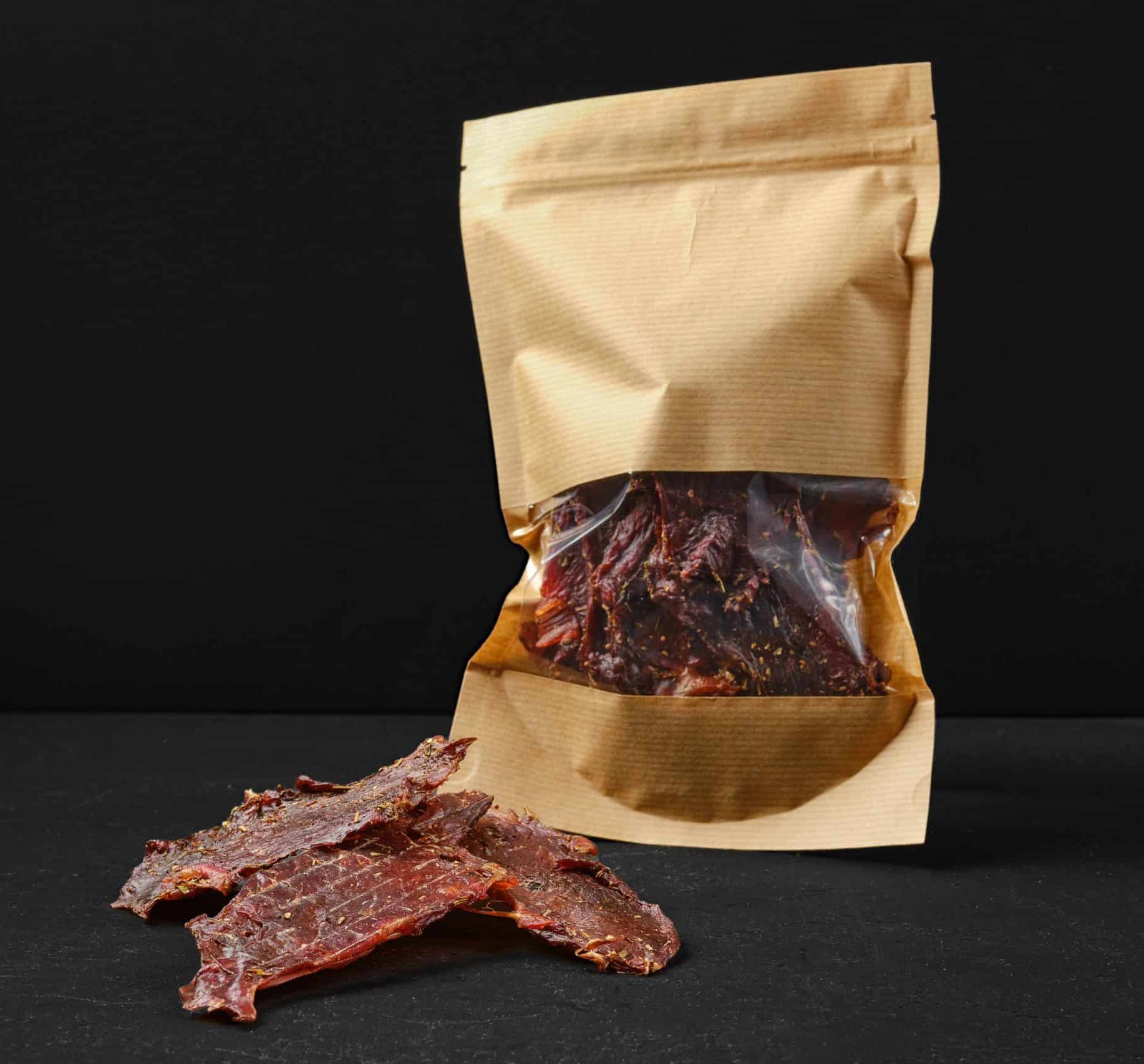 Jerky Packaging that Sets the Standard
At Brand My Bags, we manufacture and print all our materials in-house so we can track and maintain the quality of each mylar bag we're creating. Don't let your beef jerky sit on the shelf untouched. Instead, utilize our custom print options and design branding that shows off who your company is and what you value most—your customers. Request a quote today and let our professional team create the mylar bags you've been dreaming about.