Our Guide to Mylar Bags: Everything You Need to Know
Technology has come a long way—smartphones can track your location, artificial intelligence can write poetry, and cars can drive themselves. With all the new-age advances being made, it's only natural that the way in which we store and preserve goods evolves as well. Introducing mylar packaging. This innovative storage option has taken the packaging industry by storm, with a projected global growth rate of 6.9% by 2031.
At Brand My Bags, we offer customized mylar packaging solutions for a variety of industries. We aim to change how consumers receive their products and how businesses market their brands—elevating the freshness and quality of the goods available on the shelves. If you're looking for a new and creative way to entice buyers and create a recognizable brand, take a look at how mylar packaging can help you stand out from the competition.
What is Mylar Packaging?
Mylar packaging is a flexible and durable material widely used for preserving and protecting various products—food items, electronics, pharmaceuticals, and more. Made from a polyester film called polyethylene terephthalate (PET), mylar is resistant to moisture, oxygen, and light, making it ideal for keeping contents fresh and safeguarding them from environmental factors.
Additionally, mylar packaging offers companies, both large and small, a way to rebrand their business and maintain their product's integrity. With customized packaging options, including sizing, finishes, closure alternatives, and market-trending designs, you can create unique mylar packaging that represents your brand and catches the eye of consumers.
Potential Uses
Mylar bags are a versatile and unique packaging solution for a variety of industries. Whether you're looking to preserve nutritional value for foods or safeguard delicate electronic devices from damage, mylar packaging from Brand My Bags can ensure your products reach their destination in pristine condition. 
Packaging products such as herbs and spices, teas and coffees, frozen foods, and more

Preventing corrosion of metals such as bolts, screws, and piping

Preservation of camping or hiking essentials

Protecting photos, magazines, books, and other important documents
Learn more about the industries we serve.
The Benefits of Mylar Packaging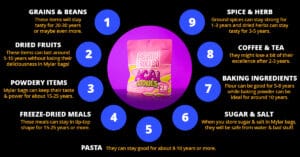 If you've ever purchased a box of cereal or a bag of coffee grounds, you're familiar with the frustration that comes from attempting to reseal the packaging smoothly. More often than not, the flimsy packaging rips down the center, causing you to search for an alternative container to store the contents. Unfortunately, this results in a noticeable decline in freshness within just a few days, resulting in less satisfaction with a brand or product.
Mylar packaging reinvents the way consumers interact with products by offering a variety of benefits, including:
Protective barrier properties:

Mylar bags offer a range of barrier properties—moisture-resistance, light-reflective properties, temperature control, and more—to keep the contents fresh, safe, and protected.

Transparency & visibility:

Consumers can quickly and easily identify the contents in a mylar bag with transparent packaging options.

Physical protection:

The durable polyester film construction of mylar bags offers resistance to punctures, tears, and abrasions, safeguarding against external impacts and rough handling.

Enhanced shelf life:

Since mylar bags lock in freshness with protective barriers and strong closure options, your products will last for longer periods of time.

Food-safe compliance:

Designed to meet stringent food safety standards and regulations, mylar bags ensure your products remain safe and uncontaminated throughout the distribution process.
Customize Your Products with Brand My Bags
As a full-service packaging company, Brand My Bags offers a unique branding experience, allowing you to choose the size, type, and design of your packaging. We proudly provide stand-up mylar pouches, lay-flat mylar bags, custom films, and so much more. Whether you're in need of child-resistant packaging for pet food or lay-flat mylar pouches for a discreet appearance (ideal for cannabis products), the professional team at Brand My Bags is here to help you own the shelf.
Show off your brand with personalized messaging that describes your product in detail and allows your customers to consume and use the contents in the mylar bag properly. Our state-of-the-art technology allows us to print rollback sticker labels and mylar bags with ease seamlessly. Choose from a variety of colors, finishes, design elements, and sizes that will elevate your brand identity and intrigue new customers. 
With the Brand My Bags team behind you, you'll have a finished product in as little as 15 business days—leaving you ready to hit the shelves and increase your ROI (return on investment).
Custom Print & Packaging Solutions For Your Business
At Brand My Bags, our goal is to provide clients with quality mylar products and friendly customer service. With the fastest production time in the country, we can deliver a mylar packaging solution that suits your needs and your products. From large-scale corporations to small businesses, Brand My Bags is here to increase your brand relevance and keep your products fresh. Call us today at (248) 985-8777 to request a quote and rebrand your business.